Cairns Reef Tours are one of the most popular activities when visiting Far North Queensland. Choose to snorkel, dive, stay dry or view the spectacular underwater reefs in our semi submarine or glass bottom boat, or simply laze on the white sandy beach.
Big Cat Green Island Reef Cruises offers two cruise options – our half day tours and full day tours. Our half day tours allow you to enjoy the beauty of Green Island when short on time or simply want to get to the reef for a couple of hours, whilst our full day tours allow flexibility so you can enjoy your time at the Great Barrier Reef whilst maximising your time on this fabulous tropical island.
For those unsure of what to choose for your Green Island Reef Cruise, here is our recommendation for a Full Day tour.
8:30am

Arrive
Check in directly at Big Cat, located berth 4, marlin wharf

9.00am

Departure
Sit back and relax and talk to our friendly team while you cruise to Green Island

10:15am

Explore the Island
Walk the rainforest, visit Marineland and find a good spot to settle in

10:30am

Snorkeling or Glass Bottom Boat
Snorkel right off the beach around the island! If you prefer a more adventurous learning experience, sign up for a Guided Snorkel Experience

12:30pm

Lunch
Enjoy the cool air conditioned and comfortable seating inside the large catamaran for lunch.

1:30pm

Semi Submarine
Explore the depths of the surrounding reef around Green Island with an expert guide

2:15pm

Snorkel Safari
Drift snorkel on the outer wall section of Green Island, famous for its extensive coral formations and schools of fish with a marine biologist commentary.

3:15pm

Relax and Shop
Green Island has various shops for that ice cream break or souvenirs. Showers etc are available too

3:45pm

Depart Green Island
Review photos, relax and cruise back to Cairns
Due to time restrictions, not every tour extra is offered on both cruises. Below are the extras that are offered on our half day and full day cruises. Feel free to contact us for assistance – our friendly crew will help you to organise your activities to make the most of your time
You control your day by choosing your optional extras per person. There really is something for everyone!
| Activity | Half Day Cruise | Full Day Cruise |
| --- | --- | --- |
| Glass Bottom Boat Tour | ✓ | ✓ |
| Snorkel Hire | ✓ | ✓ |
| Semi-Submersible Boat Tour | ✓ | ✓ |
| Lunch | | ✓ |
| Snorkel Safari Tour | | ✓ |
| Snorkel Experience Tour | | ✓ |
"Took the entire day cruise to Green Island early November. Was sceptical before about it being a tourist trap once we arrived on the island but couldn't have been further from the truth. Left to your own devises, apart from the pre arranged semi sub and glass bottom boat activities, so plenty of time to relax on the white sandy beaches and crystal clear sea. Managed to see reef sharks and numerous turtles which enhanced our visit. Would highly recommend using the Big Cat to this island.

Nicko

5/5 Star Rating
"Fantastic day trip. There were 4 of us and 2 chose to do the Snuba option (a cross between Scuba & snorkeling). What a great experience, you have a guide who is Scuba diving whilst you are breathing as in Scuba but the tanks on the surface which leaves you free to observe the wildlife! Our guides, Hayden & Ben were professional, knowledgeable and made the whole day an enjoyable and memorable experience. A must do experience!!!

Steve

5/5 Star Rating
"From the moment your shuttle collects you till the end of the day when it drops you off again, we've had nothing but great experiences yesterday. Snorkelling afterwards and a huge buffet lunch with free time to browse on the island or take the glass bottom boat tour as well. All in all thank you Hayden and all the other team members for making it the most memorable day for us.

David

5/5 Star Rating
"All the staff were very friendly and helpful. The hotel transfers were on time. Everything was easy. The glass bottom boat option was fantastic. The buffet lunch was fresh and offered a good variety of hot and cold food. Green island is absolutely beautiful. The beach is beautiful and very safe to go swimming and snorkelling.

Becc

5/5 Star Rating
"Big Cat Team was excellent. They took care of the tourists very well. All the experiences (glass bottom, semi-submarine and others) were wonderful. Overall, we are satisfied and happy.

Naren

5/5 Star Rating
"I had an amazing day at green island with my mother in law and 3 year old son exploring green island. There was so many options for families and was amazing to see the turtles, stingrays and many colourful fish and corals. The staff were excellent! We even got to see a humpback whale on the way back 🙂

Vanessa

5/5 Star Rating
Why Choose Us?
Cairns' Most Accessible Cruise
Activities For All Ages
Air conditioned Vessel
Family Friendly Tour
30+ Years Industry Experience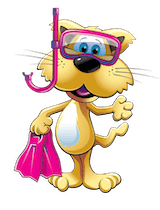 Book Your Reef Island Cruise Today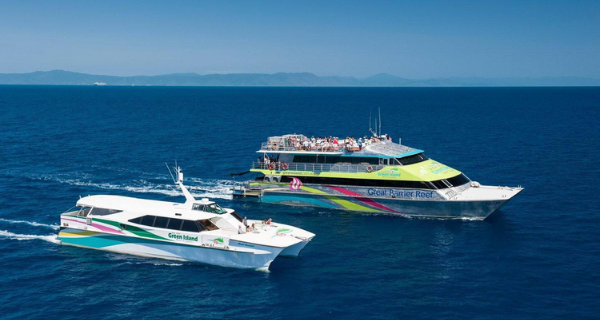 9am, 11am & 1pm departure available
Ferry transfer return only
You choose your departure & return time.
Half & Full day options available
You can buy activities on the day
Pre booked optional extras are not available with this fare.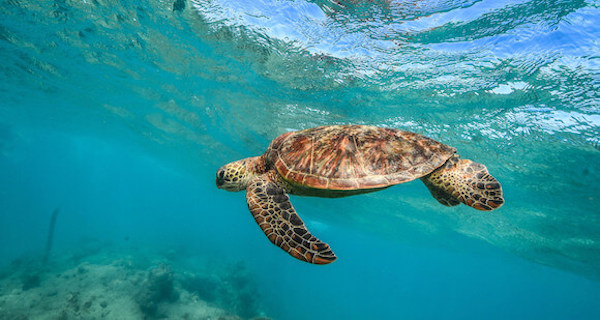 9am & 1pm departures available
FREE Choice: Glass Bottom Boat or Snorkel Hire (Save $19 per adult / $14 per child)
2 hours 15 min on the island
3 optional extras to choose from (Pre Book & Save!)
Great option if you want to stay dry!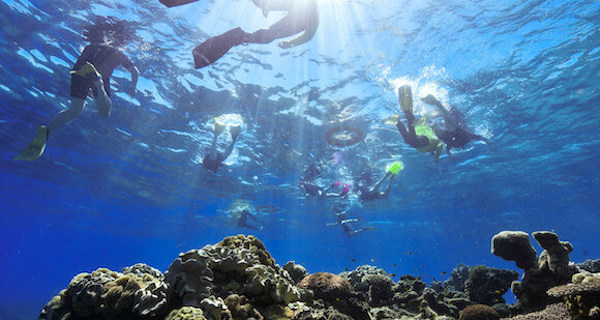 9am & 11am departures available
FREE Choice: Glass Bottom Boat or Snorkel Hire (Save $19 per adult / $14 per child)
Up to 5.5 hours on the island
6 optional extras to choose from (Pre book & Save!)
Our most popular tour!